08. Marz 2008

CACIB GRAZ (A)
Celestian Blue Moon - "Boka" won junior class and .Jr.BBOG, under Judge Ludmila Fintorova (SK), BOG Judge Robert Blümel (A)

01. Marz 2008

CACIB ZAGREB (HR)
Celestian Blue Moon - "Boka" won junior class Jr. BOB and 3.Jr.BIS under Judge Thana Achariyawan (THA), BIS Judge Janusz Opara (PL)

16. February 2008

last time we updated our Home page almost one year ago ....
a long time but in the meantime we achieved many excellent show results and new champions ....
We updated new photos on our Home page of Chef, Andy, Tom and Miri Miri

Karakush And U Know It
at the show CACIB Ljubljana 12.01.2008 Andy won CACIB, BOB, BOG, under judge A. Brace (GB)

also Celestian Blue Moon - "Boka" won junior class at the show CACIB Ljubljana 12.01.2008

Celestian Blue Moon
same day on Speciality Sighthound show - Ljubljana she won junior class under judge Wieslawa Misterka (Polen)

and Celestian Rodrigo won CAC in open class
Celestian Freelancer - "Lancer" become a German Junior champion
Celestian Flash For Fantasy - "Flash" finished his Lithuanian and Litvian Junior Championship
Celestian Firefly - "Bacira" finished also her German Junior Championship

Celestian Love is In The Air - "Darko"
was awarded BOB at International Show in Zagreb on 24 0f Nov.2007, and now he is INTERNATIONAL CHAMPION besides Hungaria Grand Champion, Serbian Champion, Hungaria Junior Champion, Hungarian Top Young Afghan Male 2005.
Darko is the Top afghan male 2007, and the Top Afghan 2007 in Hungary !!!!!!
Hungaria Champion Hungaria Show, Champion Hungaria Sighthound Clubwinner 2007, Cruft's qualification 2005, 2007

Celestian Rodrigo
finished Hungarian Championship
Celestian Blue Moon - "Boka"
started sucessfully her show caree in Junior class - she was awarded with BOB and Big #3 with only 9 1/2 months old at CACIB Zagreb. Zagreb Winner Show on 25.11.2007, under Breed judge Mr. T.Pehar and Group judge Mrs.C.Molinari
Karakush And U Know It
last year Andy won CAC , BOB, BOG at the CAC Oresje

Karakush And U Know It
won his another BIS - Sl. Brod, and also second R.BIS at CACIB Novi Sad 13.10.2007.
He is really a special boy ...
at the moment we have his puppies with Karakush Goes Celestian - "Miri Miri".
We want to say a big big "Thank you" to all the owners of our Celestian kids for taking such a good care and presenting our dogs !!!!!!!!!!!!!!
Also Thanks to all the judges !!!!!!!!!!!!!
These are just some of news at Celestian. More coming soon...
09. December 2006 - We are so proud of our dogs and their show results this fall ... here are some of it...

Karakush And U Know It
"Andy" continue his winning way with
--3 x CACIB , 4 x CAC , 2 x BOB , 2 x BIG , and BIS in Split under judge Mrs. L.Mach.
---
Karakush Goes Celestian
"Miri Miri" started her show carrier ...
4 x CAC , 1 x CACIB
---
Celestian Rodrigo
"Rodrigo" finished Croatian , Slovenian and Hungarian Junior Champion.
Congratulations goes to his owner Silvia Lehner also for a great win at Slovenian sighthound Speciality show, where he finished like a BOB winner, under judge Michael Forte.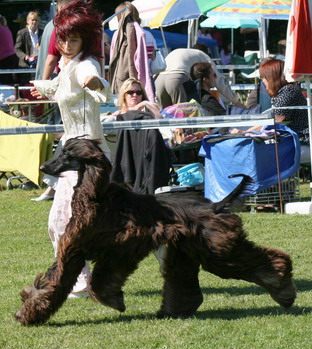 ---
Celestian Follow The Sun
"Solo" was shown only two times in Puppy Class, he was 1 x '2nd Best Puppy, and 1 x '3th Best Puppy in Show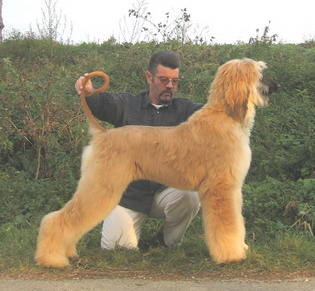 ---
Our daughter Klara was for the first time in a junior handling competition with Miri Miri - she was the youngest one but anyway she took a second place... so very pround of her...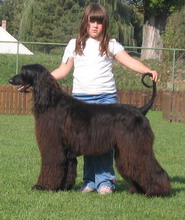 ---
Karakush And U Know It

last weekend (8.5.2005) at the Croatian National All Breed Show in Novi Marof
Andy was awarded BOB, BOG and Res. BIS
Breed and Group judge: Josef Zeidl - Hungary
BIS judge: S. Cujan - Croatia

Also two weeks ago at the International Show in Zadar Andy was awarded CAC, CACIB, under judge: D. Reicher.
---
Croatian Junior Champion - Karakush And U Know It " Andy "
25.04.2004 Dog Show - Belisce Judge: Silvia Kovacic / cro
Class Winner, Best of Group, BOB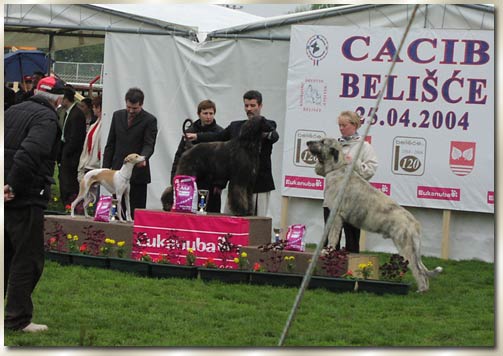 ---
Celestian Justification - Tom
29.05.2004. CACIB , BOB - Udine, Italy (F.Ferrari )
30.05.2004. CAC , BOB - Hrusica - Slvenia ( E. Minova )
31.05.2004. CAC , BOB - Zalagerszeg - Hungary (J. Zeidl )
and he became International and Slovenian Champion

Celestian Tequila Sunrise - Tex
finished Hungarian Junior Championship at CAC - Zalagerszeg
Congratulation to Tex's owners Agnes and Istvan Hanol
---
Junior Class Winner, BIS JUNIOR -2
Dog Show - Zagreb 2004-02-28
---
Our new adition from Australia
Karakush And U Know It - "Andy"
---
Celestian Justification "Tom"
Maribor, 11.05.2003.
BOB, BIG - judge: Z. Gajic (Slo)
---
Austrian Junior Champion
Celestian Justification "Tom"